PUKEKOHE SANTA PARADE 2016
We are excited to be entering the Santa Parade again this year in Pukekohe excited to say we have a truck this year!
Date:  Sunday 4th December 2016, 2pm
Gathering time:  12noon-12.30pm, Home studio for face painting  or 1.10pm at Market Car Park, Massey Avenue
Meeting point: Home studio, 29 Roulston Street, Pukekohe
Contact for the day:  Anna Molineux – 0297 712 923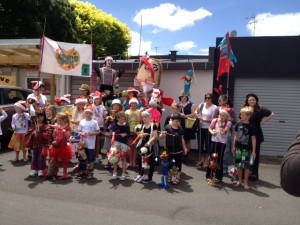 Parade theme – This year is 'Wheely Christmas' and we will be creating some arty items over the next couple of weeks in class. We are going for an overall Pop Art theme and bringing along our giant pop art flower.
Old Bicycle Wheels– We are on the lookout for old bicycle wheels to create truck artwork if anyone has any or knows of any we would love to recycle them please.
Dress up (Optional but fun!) –We are going with a Pop Art style (polka dots/bright colours) or as Artists (ie, Dad's old shirt with paint splashes on), a beret or brushes sticking in hair etc. If students arrive at our home studio for 12 noon we can face paint them in a pop art/Lichtenstein style before heading down to the market car park at 1pm to join the rest of the parade entries. We welcome students to bring along their favourite piece of artwork to show off on the day.
Old bike wheels – I am going to start a hunt for old bicycle wheels to make some creative projects with our classes, please ask around through your contacts also.
Driver – We are still on the lookout for a driver for the truck – please let us know if you know someone who would be keen with a Class 2 licence please let us know!
Parents assistance – We are required to have a certain amount of adults on the truck so we welcome some adults to join our team on the day if possible please.
PUKEKOHE SCAVENGER HUNT – Pukekohe Business association – This year we will be participating the Pukekohe Scavenger hunt and decorating a tree for a secret location within Pukekohe. Scavenger hunt forms to join the hunt are available from 28th November. For more details on this please see: http://www.pukekohe.org.nz/scavengerhunt
Please advise us if you will be attending so we can gather numbers on anna@youngatart.co.nz.
Any questions please feel free to contact us.
Best Regards
Anna Molineux
Young at Art Limited  Mob. 0297 712 923 www.facebook.com/YoungatartNZ   |   www.youngatart.co.nz