TUTORS
Anna Molineux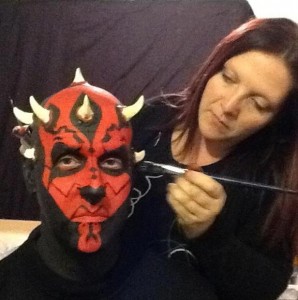 Anna Molineux is an award winning exhibiting artist who is the creative force behind 'Young at Art' who paint, draw and papier mache their way through many classes, workshops, events, parties and individual commissions each year. On leaving school Anna studied Interior Design in the UK and has numerous awards in printmaking and body art. Happiest with a paint brush in her hand, Anna is a talented artist and loves nothing more than expressing her creativity in many forms even including all forms of painting, costume design, face and body art. As Director of Young at Art, Anna is the first point of contact for all class and workshop enquiries.
Several years ago Anna was happily surprised to find herself the winner of Franklin's Finest Inspiration award 2015.
"I have always had a strong passion for the arts, particularly art and design, and consider myself extremely lucky to be able to combine all these elements through Young at  Art and my other endeavours," says Anna.
Wearing her other hat Anna is also Director of 'Magical Masquerade', a successful face and body art company providing entertainment services for children's parties and corporate events New Zealand wide.
We're passionate about taking art out into the community and Anna was able to realise this ambition through the inception of the Franklin Children's Arts Festival in 2012, 2013 and 2015.  As the main event organiser, Anna leads a talented team to provide free access to the arts for children and youth within the Franklin area and further afield. For more information about the Franklin Children's Art Festival see our Facebook page.   When Anna's not busy with 'Young at Art' or Magical Masquerade, she dedicates her time to exploring new creative ventures and projects and regularly exhibits her own artwork.
Maureen Goodison
Maureen has always loved anything to do with creating, including drawing, writing or clay work. Working in a variety of mediums and styles her favourite being character drawing using pen, pencils and mixed media.
Maureen is passionate about working with children and currently employed in a local primary school. She enjoys how they 'see' the world and how this is translated in their artwork.
Maureen enjoys travelling and spending time with family and friends. She is inspired by nature, people and how differently we all view our surroundings. That is what makes art so wonderful!
Niamh McNeilage
Niamh McNeilage is a graduate from Whitecliffe College where she completed a Bachelor of Fine Arts, Majoring in Photo Media. Since she has started up her own business, Niamh Adele Photography, where she works as a Professional Studio Photographer. To keep busy Niamh also works for Magical Masquerade and Young at Art, where she strives in face painting and art tutoring. Giving her the opportunity to share her artistic skills at public events, art workshops, and private birthday parties. Niamh has a passion for sharing her creative knowledge.
Ari van Noordt
After living and travelling around the world, Ari has finally settled back in New Zealand. She is a self-taught digital artist living in Pukekohe who enjoys illustration, character art, and tattoo design (though she doesn't have any tattoo of her own, go figure!). She attended University in the United States to study graphic design and has honed her craft working for US-based design companies and freelancing. While she mostly works digitally, she loves to dabble in all sorts of arts and crafts and is most happy when she is sharing her love of art with others… or when she's petting a cat. Her artwork has made its way onto wine bottles, clothing, stationery, home goods, people's bodies, and more!
Sue Rogers
Sue has always had a passion for all things art and crafty.  Leaving school to study fashion design Sue then went on to work in theatre creating costume and set designs. She is never far away from a sewing machine or a lump of clay as her other passion lies in ceramics. Sue loves nothing better than getting messy with art and letting children unleash their creativity working with clay, papermaking or papier-mâché. "I always enjoy seeing the range of unique designs created by the children at each workshop and love that I was able to help them create their master-piece"
Sue's other interest in science and technology helped lead to the creation of our sister company 'The Flash Bang Science Club", where Sue is our Chief Scientific Investigator. "We noticed that there wasn't an outlet for our scientific, non-sporty kids, to join with like-minded souls. So we decided to create the perfect place for these young Einstein's to come together to experiment and learn the wonders of science"  Sue is also a teacher at our local Intermediate school.