TUTORS
Anna Molineux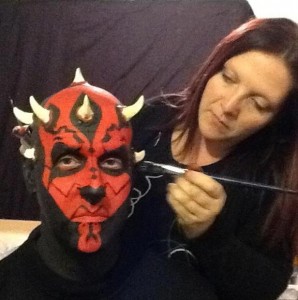 Anna Molineux is the creative force behind 'Young at Art' who paint, draw and papier mache their way through many classes, workshops, events, parties and individual commissions each year. On leaving school Anna studied Interior Design in the UK and has numerous awards in body art. Happiest with a paint brush in her hand, Anna is a talented artist and loves nothing more than expressing her creativity in many forms even including all forms of painting, costume design, face and body art. As Director of Young at Art, Anna is the first point of contact for all class and workshop enquiries.
Last year Anna was happily surprised to find herself the winner of Franklin's Finest Inspiration award 2015.
"I have always had a strong passion for the arts, particularly art and design, and consider myself extremely lucky to be able to combine all these elements through Young at  Art and my other endeavours," says Anna.
Wearing her other hat Anna is also Director of 'Magical Masquerade', a successful face and body art company providing entertainment services for children's parties and corporate events New Zealand wide.  Anna has won many awards in body art over the years.
We're passionate about taking art out into the community and Anna was able to realise this ambition through the inception of the Franklin Children's Arts Festival in 2012, 2013 and 2015.  As the main event organiser, Anna leads a talented team to provide free access to the arts for children and youth within the Franklin area and further afield. For more information about the Franklin Children's Art Festival see our Facebook page.   When Anna's not busy with 'Young at Art' or Magical Masquerade, she dedicates her time to exploring new creative ventures and projects.
Alissa Gilbert
In 2011 Alissa graduated with a Bachelor of Fine Arts specialising in Sculpture, from Canterbury University. Since graduating she has exhibited around New Zealand and has established a craft based practice making cold pressed soaps into sculptural forms.
Alissa believes that visual art has played a central role in her personal development and her involvement in the art community and regularly attending art openings has given her the opportunity to meet and create lasting friendships with many New Zealand artists and art advocates.
As a result of a lifelong dedication to art combined with her formal education Alissa has gained practical skills and techniques in drawing, painting, printmaking, ceramics and fiber arts along with theory and art history knowledge.
"I was introduced to modern art by my Grandma who was a keen drawer and as a child I was lucky enough to participate in afterschool art programs and had many great teachers who encouraged my creative development. I would love to have the opportunity to share my skills and passion with future creatives'
Anita Levering
Anita graduated as an art teacher in Amsterdam and taught at secondary and tertiary education in the Netherlands.
Her ambition at the time propelled her towards visual effects for film and television. After travelling the globe she settled in New Zealand and re-ignited her passion for the visual arts through abstract painting for which she was awarded the Gordon Harris prize in the MFA program of Elam school of art, for the most meritorious painting work. In 2010 she became runner up for the Wallace Award and is since represented by Sanderson Contemporary Auckland where she exhibits regularly.
Because of her extensive practical and art historical training she has a broad knowledge of all sorts of techniques which she eager to pass on. Anita is very keen to encourage and help develop the next generation of budding artists.
Ben Griffiths
After 12 years in Sweden, Ben has recently movedback to NZ with his wife and two children. Ben is an experienced artist who has been working across a range of fields with different artistic styles throughout the years. From big, bold and colourful oil and acrylic paintings to realistic chalk pastel landscapes to richly detailed pen and ink drawings he is always keen to explore new mediums and their potential.
Since graduating with a bachelor of fine of arts, majoring in painting, from Elam School of Fine Arts, Auckland University, he has exhibited regularly.
For the last 4 years, he has worked as a scenic painter for the Gothenburg Opera in Sweden.
"I'm really looking forward to meeting all the young artists out there and working with them to use creativity combined with a solid skill base so that great works of art can arise."
Isla Noakes
Isla graduated from Auckland College of Education in 2003 and is an experienced New Zealand Primary School Teacher with a passion for the arts. Since 2012 she has been in and out of the classroom while raising her three young children at home. In her spare time she loves to create visual art and enjoys extending her artistic horizons. Last year she completed monthly workshops in decoupage. Lino printing is at the forefront of her personal art obsession and over many years she has been developing her skills.
Being creative is part of who she is.  Whether it's music, writing, photography, gardening, performance, crafts, or visual arts she needs to create to stay healthy and happy. She also believes art can be healing and finds the artistic energy created in the classroom inspiring.  She enjoys watching children grow in confidence and strives to create an inclusive, fun learning environment. Isla enjoys integrating the arts and has facilitated a number of projects culminating in performances involving movement, music, drama and the visual arts.
Isla is looking forward to meeting new children, having lots of fun and being inspired.
Kirsty McGregor
Kirsty is an extremely talented award winning artist currently studying for a bachelor of Visual Arts at AUT. Kirsty's passions principally in drawing and painting, closely followed by print making and photography, she also has experience in fashion design. In Kirsty's final year at Pukekohe High School (2013) she won 'Artist of the Year', 1st place in year 13 Art. In the same year Kirsty went on to win the much sort after 1st place in the Youth Section of the Franklin Arts Festival. Kirsty also works as a fairy character and face painter for our sister company Magical Masquerade.
Kirsty Says 'I love that Young at Art has given me the opportunity to share my passion for art with children and to assist them with learning and growing in their creativity as an artist'.
Lara Mills
Lara's fairly new to this amazing part of the world and is mum to two young, curious kids.   Currently Lara's main arty outlet is at Playcentre, where she gets to create, explore and play alongside the kids, which she really enjoys.   Lara's behind the "Castle" at Bombay Playcentre and has a reputation for finding & inspiring the fun in creating and making.   At school she joined all the art-related clubs and it was worth it, as she completed 'A' Level Art in one year and achieved one of the highest marks in UK.  She went on to get a BSc (Hons) in Geography from a top UK university, after discovering a real interest in the world where we live, and sees this knowledge as a real asset when it comes to teaching our children.   Lara has a strong African influence that runs through her more serious painting, photography, drawing and collage works, but these days she really enjoys helping her kids to learn about the world and themselves through art; the messier, the better!
Louise Hutchinson
After graduating (in 2007 with a Bachelor of design at Massey University in Wellington ) My Twin sister and I set out to start an apparel and accessories line for both men and women under the name that felt most appropriate: Hutchinson Sisters. We have spent the firth year out of university researching and developing our line to ensure that our designs are of the highest quality possible. The range sold in both designer boutiques around New Zealand as well as online.
Under the Hutchinson Sisters label we also branched out wholesaled school gear and garments to schools and sports team's as well promotional products for commercial businesses.
in 2013 wanting to up-skill, I graduated with a Masters of design from Auckland University – after raising my three year old daughter Hutchinson sisters Tm went on the back burner but is still Freelancing on commission based works, mainly tailored suits for corporate sector and Made to measure Bridal wear.
I have in-depth knowledge and practice a high standard of garment and construction skills. particularly towards in men's tailored wear. I have an affinity working with the tactile nature of leather and fur, as well as creating and designing prints and adornments using various applications and techniques on woven and knit textiles.
I see myself and the Brand in five years opening up an on-line boutique for our customers and broadening our range of apparel and accessories. But regardless of what happens, I will never stop designing, teaching, learning and having fun!
Matilde Beccatti
Matilde is a creative, bright and caring young Italian woman, recently returned to New Zealand. Her first experience in New Zealand was as an exchange student at Pukekohe High School, an experience that completely changed her life. In 2012 she graduated with a Bachelor (and a Master in 2013). Matilde is passionate about art and since moving to New Zealand, she has been working as a gallery assistant at the Franklin Arts Centre. Matilde loves working with children and since she was in high school has run after school programs with primary and middle school children. In 2013 she spent four months in Havana, Cuba working as a volunteer and conducting recreational and educational activities with children living in poorer areas of the city. Matilde has experience in planning and running children's art classes as well as science and technology workshops and really enjoys organising activities for children to express their imagination and creativity.
"I love encouraging and assisting children to express their inventiveness and originality and help them discover new mediums and materials".
Raymond McGrath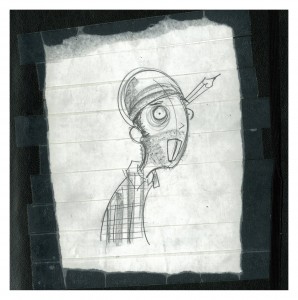 Raymond McGrath is an award winning Animation Director, animator, illustrator, designer, musician and writer who has been working in children's television, film, publishing and advertising for over 22 years. He has completely lost count of the number of books he has illustrated, television shows he has worked on and TV commercials he has made (because that requires maths and remembering and he isn't so good at either…).
But he does remember that he loves gardening, photography, music and drawing, that he is the creator and director of the educational pre-school TV series 'Puzzle Inc'.
He also remembers that he lives in the country with his lovely wife, his two beautiful daughters, some cats and a schnauzer whose legs are made out of springs!
…but that's because those things are easy to remember!
p.s. He also made a some of music videos for the songs he wrote that goes with his previous books 'It's Not A Monster, It's Me!', 'Have You Seen A Monster?', and 'Did You Hear A Monster?'.
The first one won an award! (…and the others were finalists). You might like to have a look at them…after all, he made them especially for you!
www.theonetrickpony.net
Sarah Quinlan
Prior to becoming a busy Mum, Sarah exhibited her paintings in various places and won a few awards including best local artist at the Franklin Arts Festival. She looks forward to re-establishing that again in the future but for now is happy passing on her love of all things arty and crafty to her own three children and those she tutors while dreaming of the next thing to 'make' or try.
Sarah is a trained Occupational Therapist with a passion for paediatrics, has run a small hobby business and also ran drama clubs for kids. She spent many years working with children in various circumstances including 12 years volunteering for Camp Quality. Combining her O.T. hat with her artist one Sarah believes in art as a therapeutic outlet for all and enjoys watching young people develop their own ability to express themselves creatively and learn through that process. Her student's often hear her saying "that's not a mistake, that's a part of a great masterpiece".
Sue Rogers
Sue has always had a passion for all things art and crafty.  Leaving school to study fashion design Sue then went on to work in theatre creating costume and set designs. She is never far away from a sewing machine or a lump of clay as her other passion lies in ceramics. Sue loves nothing better than getting messy with art and letting children unleash their creativity working with clay, papermaking or papier-mâché. "I always enjoy seeing the range of unique designs created by the children at each workshop and love that I was able to help them create their master-piece"
Sue's other interest in science and technology helped lead to the creation of our sister company 'The Flash Bang Science Club", where Sue is our Chief Scientific Investigator. "We noticed that there wasn't an outlet for our scientific, non-sporty kids, to join with like-minded souls. So we decided to create the perfect place for these young Einstein's to come together to experiment and learn the wonders of science"
Carissa Fraser
Carissa is a mum to two, adventurous and energetic children. She has a passion for drawing, face painting and pretty much anything that expands her creative boundaries. Carissa is currently working in the childcare industry, and enjoys seeing the fun and learning that creative arts can bring to children's lives.
Yolanda O Reilly
I was born and raised in South Africa. Ever since I can remember I loved to draw and colour-in. I remember always having colouring- in books and crayons. When I ran out of pictures to colour-in I drew my own pictures! And when I ran out of crayons, I just coloured-in with the pencil I used to draw. I later learnt that what I was doing was 'shading'! My very first pencil portrait was of my doll at the age of about eight or nine. And that is where my love of portraiture came about. I have done a few portraits as commissions for friends and acquaintances over the years.
I started working at Trinity Kindergarten, Highland Park, in 2002, a few months after arriving from South Africa. I started as a reliever and found that I thoroughly enjoyed it. After a year or so, I started my training and gained a Diploma in Early Childhood Education. I felt a sense of fulfillment every time a child achieved a goal or learnt a new skill, and it was easy to see that happen by the expression on their beautiful little faces. I loved encouraging them to express themselves creatively, whether it was through art, imagination or physical activity.
Then in 2012 I decided to pursue my own creative interests. I signed up to do a course in Fashion Design and gained a Diploma in Fashion Technology. I now am finding myself with some time to explore my creativity through dressmaking and completing some outstanding drawing projects.