TUTORS
Anna Molineux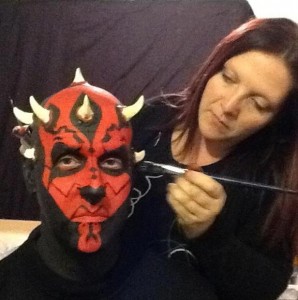 Anna Molineux is the creative force behind 'Young at Art' who paint, draw and papier mache their way through many classes, workshops, events, parties and individual commissions each year. On leaving school Anna studied Interior Design in the UK and has numerous awards in body art. Happiest with a paint brush in her hand, Anna is a talented artist and loves nothing more than expressing her creativity in many forms even including all forms of painting, costume design, face and body art. As Director of Young at Art, Anna is the first point of contact for all class and workshop enquiries.
Last year Anna was happily surprised to find herself the winner of Franklin's Finest Inspiration award 2015.
"I have always had a strong passion for the arts, particularly art and design, and consider myself extremely lucky to be able to combine all these elements through Young at  Art and my other endeavours," says Anna.
Wearing her other hat Anna is also Director of 'Magical Masquerade', a successful face and body art company providing entertainment services for children's parties and corporate events New Zealand wide.  Anna has won many awards in body art over the years.
We're passionate about taking art out into the community and Anna was able to realise this ambition through the inception of the Franklin Children's Arts Festival in 2012, 2013 and 2015.  As the main event organiser, Anna leads a talented team to provide free access to the arts for children and youth within the Franklin area and further afield. For more information about the Franklin Children's Art Festival see our Facebook page.   When Anna's not busy with 'Young at Art' or Magical Masquerade, she dedicates her time to exploring new creative ventures and projects.
Kirsty McGregor
Kirsty is an extremely talented award winning artist currently studying for a bachelor of Visual Arts at AUT. Kirsty's passions principally in drawing and painting, closely followed by print making and photography, she also has experience in fashion design. In Kirsty's final year at Pukekohe High School (2013) she won 'Artist of the Year', 1st place in year 13 Art. In the same year Kirsty went on to win the much sort after 1st place in the Youth Section of the Franklin Arts Festival. Kirsty also works as a fairy character and face painter for our sister company Magical Masquerade.
Kirsty Says 'I love that Young at Art has given me the opportunity to share my passion for art with children and to assist them with learning and growing in their creativity as an artist'.
Lara Mills
Lara's fairly new to this amazing part of the world and is mum to two young, curious kids.   Currently Lara's main arty outlet is at Playcentre, where she gets to create, explore and play alongside the kids, which she really enjoys.   Lara's behind the "Castle" at Bombay Playcentre and has a reputation for finding & inspiring the fun in creating and making.   At school she joined all the art-related clubs and it was worth it, as she completed 'A' Level Art in one year and achieved one of the highest marks in UK.  She went on to get a BSc (Hons) in Geography from a top UK university, after discovering a real interest in the world where we live, and sees this knowledge as a real asset when it comes to teaching our children.   Lara has a strong African influence that runs through her more serious painting, photography, drawing and collage works, but these days she really enjoys helping her kids to learn about the world and themselves through art; the messier, the better!
Raymond McGrath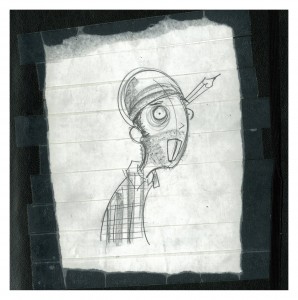 Raymond McGrath is an award winning Animation Director, animator, illustrator, designer, musician and writer who has been working in children's television, film, publishing and advertising for over 22 years. He has completely lost count of the number of books he has illustrated, television shows he has worked on and TV commercials he has made (because that requires maths and remembering and he isn't so good at either…).
But he does remember that he loves gardening, photography, music and drawing, that he is the creator and director of the educational pre-school TV series 'Puzzle Inc'.
He also remembers that he lives in the country with his lovely wife, his two beautiful daughters, some cats and a schnauzer whose legs are made out of springs!
…but that's because those things are easy to remember!
p.s. He also made a some of music videos for the songs he wrote that goes with his previous books 'It's Not A Monster, It's Me!', 'Have You Seen A Monster?', and 'Did You Hear A Monster?'.
The first one won an award! (…and the others were finalists). You might like to have a look at them…after all, he made them especially for you!
www.theonetrickpony.net
Sue Rogers
Sue has always had a passion for all things art and crafty.  Leaving school to study fashion design Sue then went on to work in theatre creating costume and set designs. She is never far away from a sewing machine or a lump of clay as her other passion lies in ceramics. Sue loves nothing better than getting messy with art and letting children unleash their creativity working with clay, papermaking or papier-mâché. "I always enjoy seeing the range of unique designs created by the children at each workshop and love that I was able to help them create their master-piece"
Sue's other interest in science and technology helped lead to the creation of our sister company 'The Flash Bang Science Club", where Sue is our Chief Scientific Investigator. "We noticed that there wasn't an outlet for our scientific, non-sporty kids, to join with like-minded souls. So we decided to create the perfect place for these young Einstein's to come together to experiment and learn the wonders of science"
Carissa Fraser
Carissa is a mum to two, adventurous and energetic children. She has a passion for drawing, face painting and pretty much anything that expands her creative boundaries. Carissa is currently working in the childcare industry, and enjoys seeing the fun and learning that creative arts can bring to children's lives.